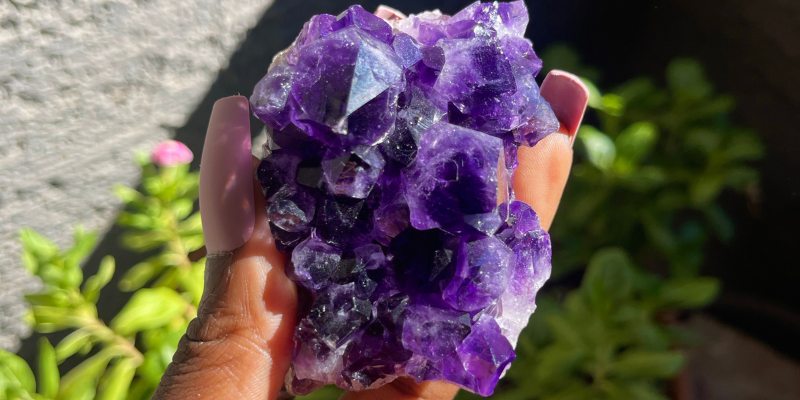 ---
Disclaimer: Links in this post may be affiliate links, If you click on them and make a purchase, a small commission at no additional cost to you may be received.
---
AMETHYST CRYSTALS | Amethyst is the most popular colored gemstone in the world today. It has been prized throughout history for its beauty & divine powers. This semi-precious stone is commonly used in jewelry and dates back to ancient times. It is known to have many metaphysical properties, like relaxing your mind. It is a wonderful crystal to meditate with if you are looking to tap into your higher self to invoke a spiritual awakening.
---
What is amethyst?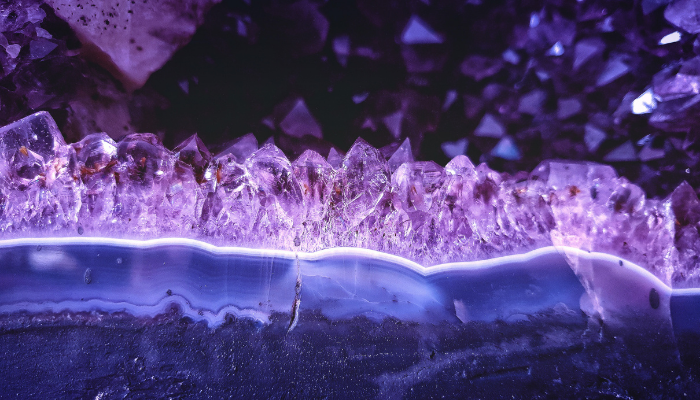 Amethyst is a type of crystalline quartz with colors ranging from light to dark violet shades. It is also known as purple quartz. It is currently one of the most popular colored gemstones.
---
Where is Amethyst found?
Amethyst is found all over the world in places like Morocco, Zambia, South America, Africa, France, Russia, and Uruguay.
It is produced in abundance in Brazil where it occurs in large geodes within volcanic rocks.
Amethyst was a cardinal gemstone until large deposits in Brazil emerged and dropped the value of the stone. It is now considered a semi-precious stone.
The state of Rio Grande do Sul, which is Brazil's southernmost state is a lead producer of Amethyst.
Siberian amethyst is the highest grade available and is very rare. It has very deep purple hues, which can range from a reddish purple to a dark purple.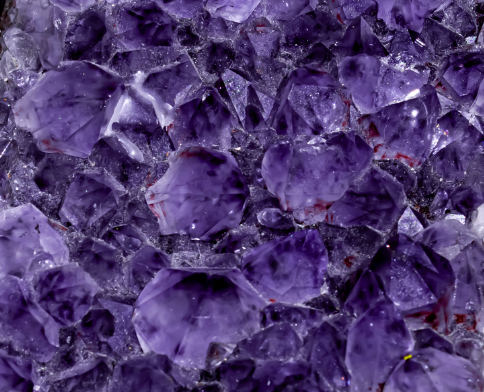 ---
---
How are amethyst crystals formed?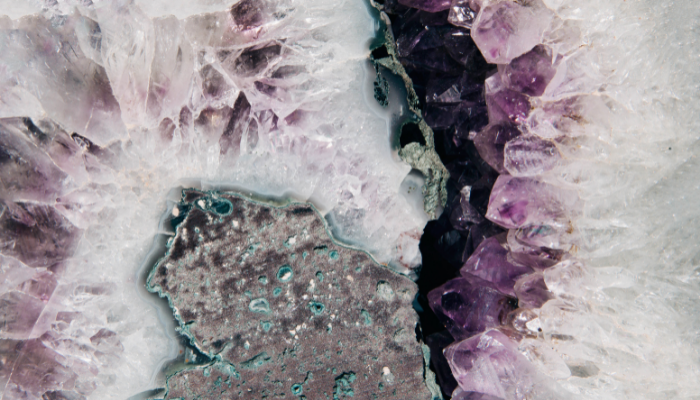 Amethyst crystals are formed inside igneous volcanic rocks called basalt. It requires a hollow space in which the crystal cavity can form.
Basalt : an extrusive igneous rock made from the rapid cooling of volcanic lava at Earth's surface.
Geodes are formed when there are pockets of air within rocks. This normally happens after volcanic eruptions when lava cools around air bubbles. These pockets leave space for groundwater to seep in. The water itself does not produce geodes. The water brings along minerals which stay in the rock after the water evaporates creating the crystal formation.
---
What are the different colors of amethyst Crystals?
The color of amethyst crystals normally ranges from light to dark violet shades but also comes in green and pink. The value of an amethyst is based on its color rather than the carat weight. The most valuable gemstones tend to have dark purple hues with reddish tints.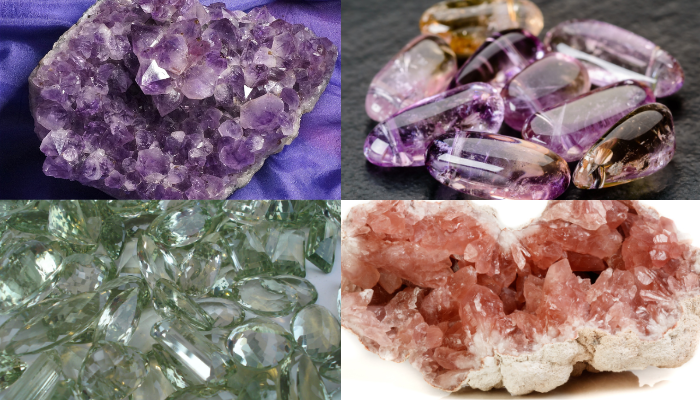 PURPLE AMETHYST
AMETRINE – AMETHYST & CITRINE
PRASIOLITE – GREEN AMETHYST
PINK AMETHYST
---
---
While not proven scientifically, many claim that crystals can aid physical healing
---
What Are the Healing Properties, Meanings, and Uses of amethyst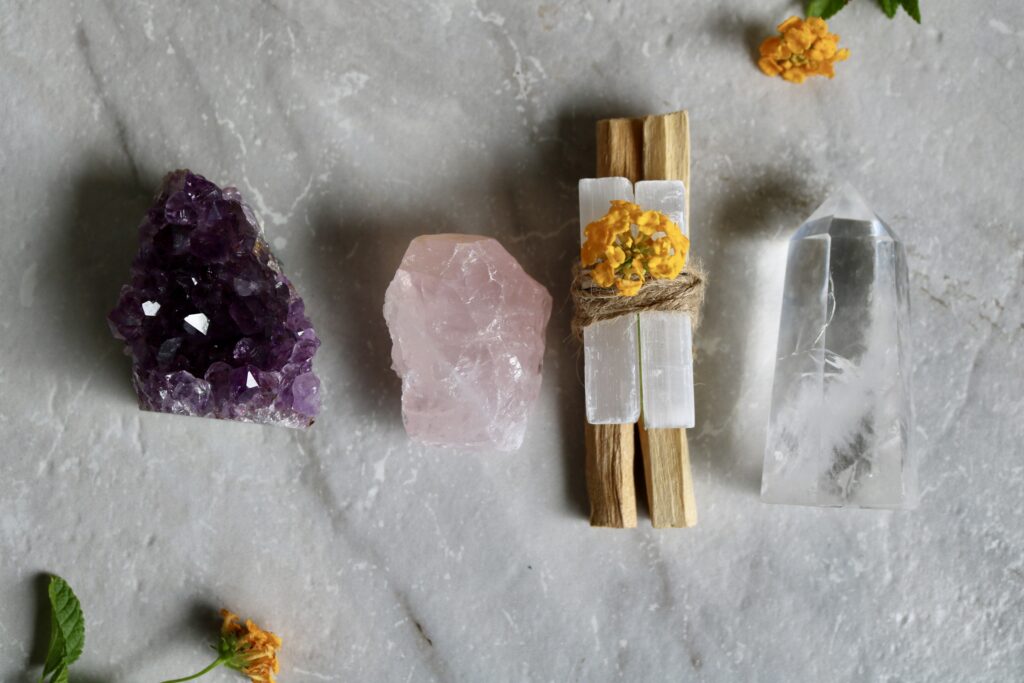 Chakras – Third Eye Chakra, Crown Chakra
Birthstone – February
Zodiac – Aquarius & Capricorn
Planet – Jupiter
Element – Air, Water
Numerical Vibration – Number 3
"Amethyst is a natural tranquilizer. It relieves stress and strain, soothes irritability, balances mood swings, dispels anger, rage, fear and anxiety. Alleviates sadness and grief, and dissolves negativity. It activates spiritual awareness, opens intuition and enhances psychic abilities. It has strong healing and cleansing powers. It also encourages sobriety, having a sobering effect on overindulgence of alcohol, drugs or other addictions. It calms and stimulates the mind, helping you become more focused, enhancing memory and improving motivation. Amethyst assists in remembering and understanding dreams. It relieves insomnia. Encourages selflessness and spiritual wisdom."
Amethyst Crystal Properties
Spiritual Awareness
Tranquility
Energy Protection
Increases Intuition
Promotes Inner Peace
Healing of the Mind, Body & Soul
Positive Transformation
Stress Relief
Overcoming Addiction
Amethyst is strongly associated with the crown chakra and is even said to bridge the gap between the physical and the spiritual realms. It is perfect for those who are looking to leap higher into their spiritual awakening.
---
I am connected with the highest vibration of love in the universe.

crown chakra mantra
---
HOW TO CLean & CARE FOR AMETHYST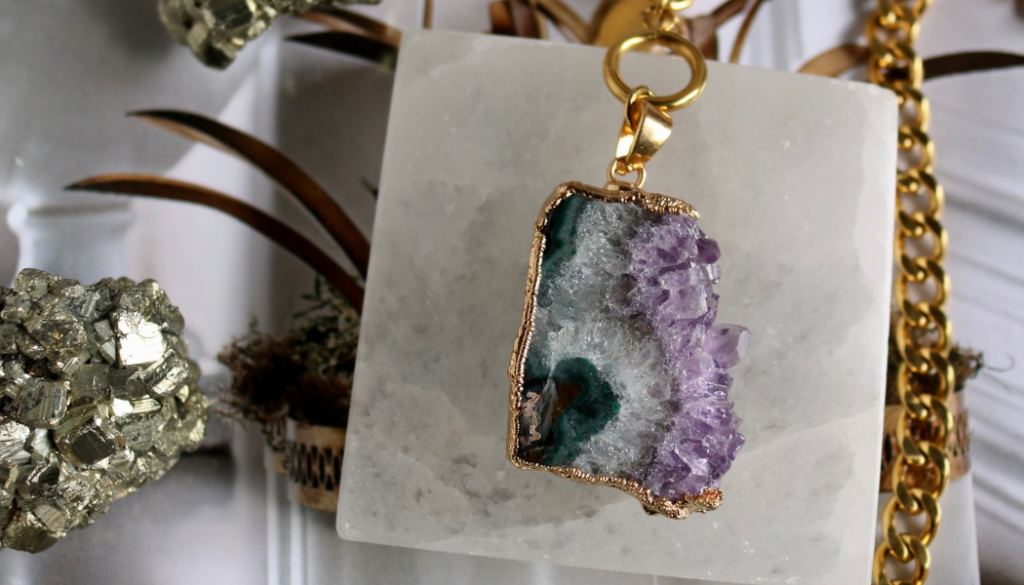 Amethyst Crystal Jewelry
You can clean your gemstone with soft soap and warm water. If it needs a little bit of scrubbing, use a very soft toothbrush.
If you have an amethyst crystal tower or cluster, you can soak it in a bowl of warm soapy water for 10-20 minutes and rinse it off with water.
DO NOT leave your amethyst in direct sunlight for a prolonged period of time because the purple will start to fade.
JEWELRY CARE: FOLLOW THESE GUIDELINES TO KEEP YOUR JEWELRY LOOKING ITS BEST
Avoid direct contact with perfumes, body lotions, hairsprays & harsh chemicals
Remove your jewelry before going to bed
Avoid long direct sunlight, heat, cold or extreme humidity
Remove jewelry before bathing, showering or swimming
Clean your jewelry occasionally with soft soap and a soft cloth
Store your jewelry in a jewelry box when not in use
Remove jewelry when doing physical activities
---
HOW TO CLeanse & Charge AMETHYST Crystals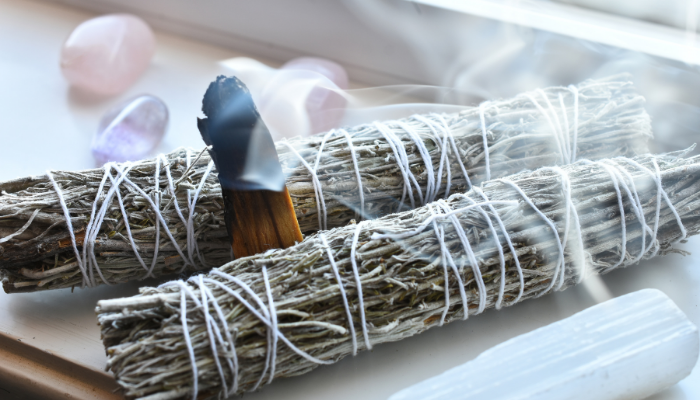 You should cleanse your crystals to rid any potential negative energy. The more you use a crystal, the more energy it collects. Cleanse your crystals regularly.
Best ways to charge and Cleanse Amethyst
Smoke – Sage, Incense, Palo Santo
Moonlight – Sit crystals out in the moonlight
Sound Bath – Singing Bowls, Bells, Drumming, Cleansing Frequency
Selenite – Place your crystals on or near Selenite
Earth Cleansing – Place your crystals right on the Earth.
---
---
What are the myths and legends about amethyst?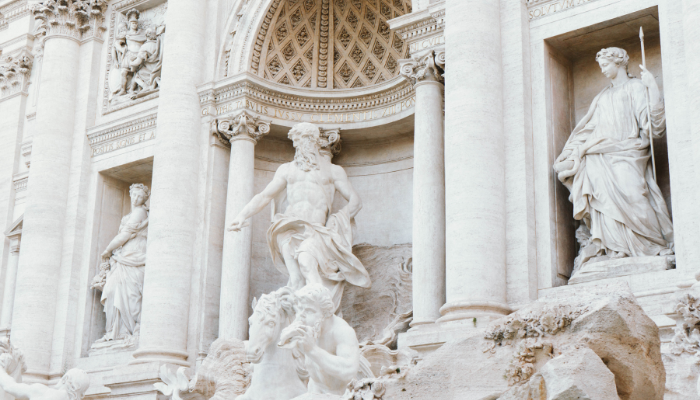 Amethyst is a very old gemstone with a lot of mystical and folklore attached to it. Geologist have found amethyst jewelry at burial sites dating back 2400 B.C.
In Greek mythology they believed amethyst would prevent intoxication. So they would drink wine from amethyst goblets.
Meaning Of Amethyst Crystal
Amethyst comes from the Greek word "Amethystos" meaning "not intoxicated."
In ancient times purple symbolized both power and responsibility and was a the gemstone of choice for royalty.
Medieval European warriors wore amethyst to help keep a clear mind and to stay level-headed during battle and to offer protection.
---
GEMOLOGICAL PROPERTIES OF AMETHYST
Color Purple *can be Green or pink
Family Quartz
Mohs Scale Hardness 7
Lustre Vitreous
Crystal System Trigonal
Transparency Transparent to translucent
Chemical Formula SiO2
Composition Silicon Dioxide
---
---
Amethyst Crown Chakra Meditations
Turned phone sideways for WIDE VIEW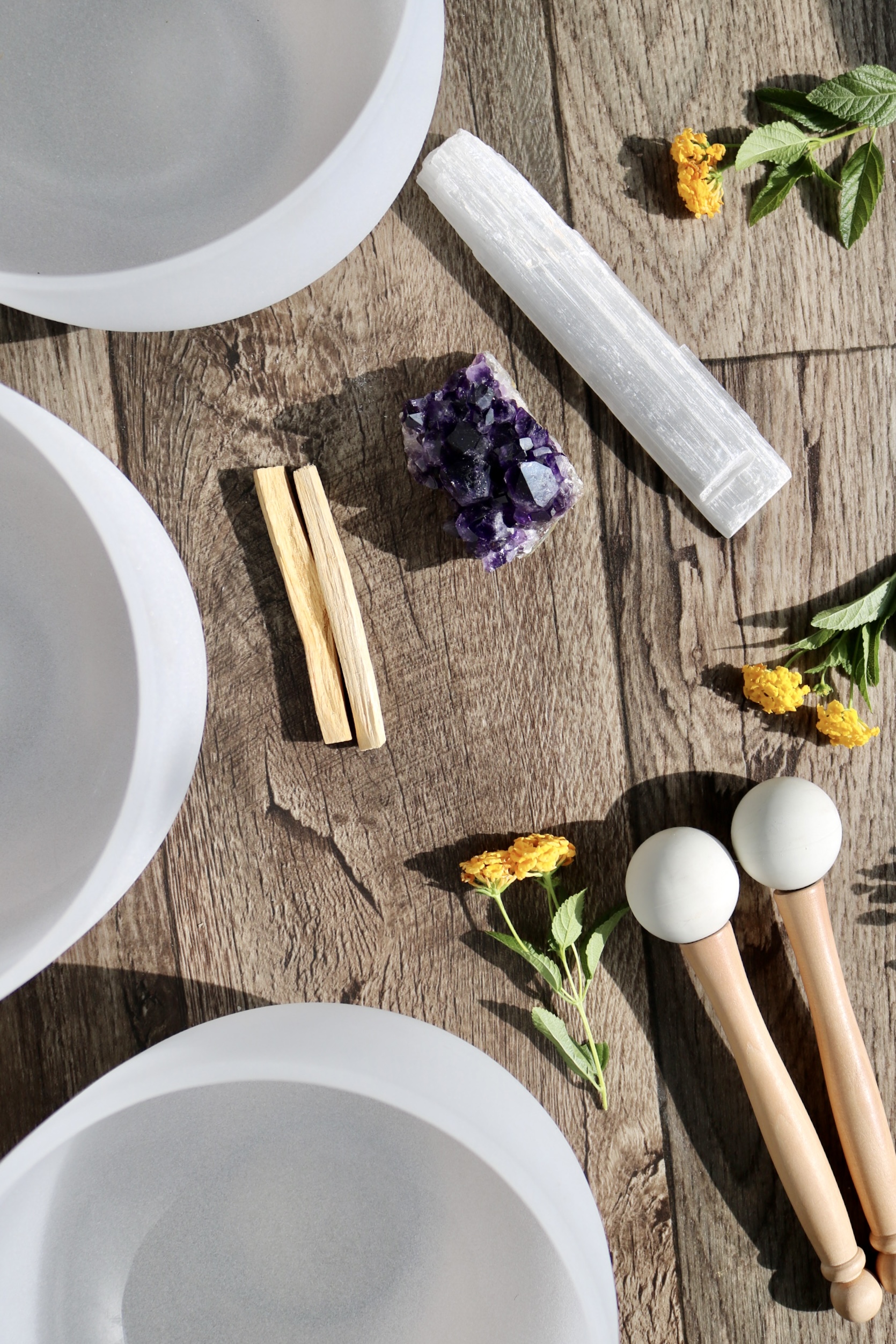 "HIGHER PURPOSE" CROWN CHAKRA MEDITATION
Sit or lay down in a comfortable position
Exhale out your mouth completely
Palms facing upward to receive energy
Have an amethyst crystal in the middle of each palm
Inhale through your nose
Exhale through your mouth slowly
Let your breaths be long and slow
Repeat for 10 breaths
Let your breath come back to its normal rhythm
Find stillness
Repeat MANTRA
MANTRA : I AM ALIGNED WITH MY HIGHER PURPOSE
---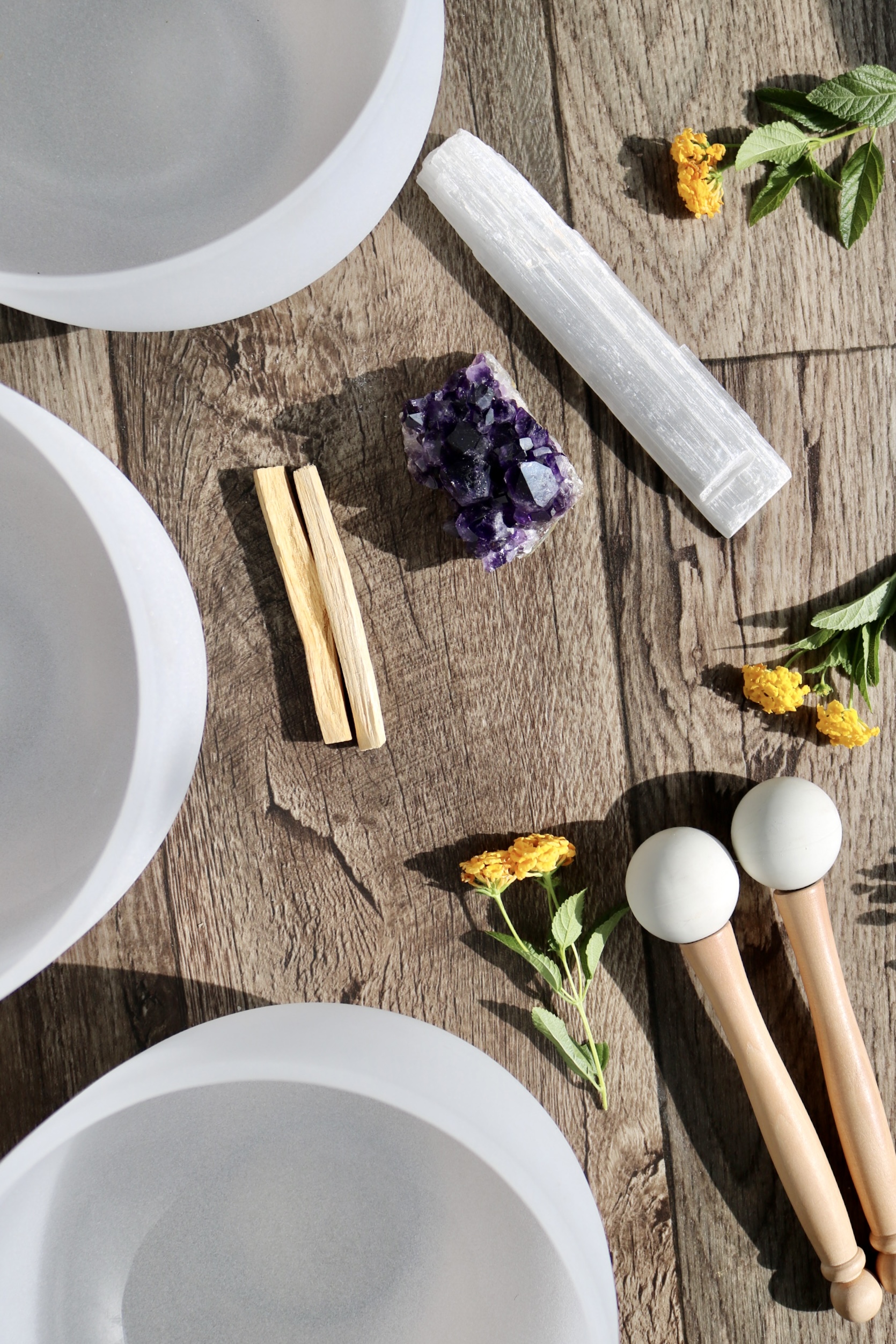 "DIVINE ENERGY" CROWN CHAKRA MEDITATION
Place an obsidian or smokey quartz crystal between your feet

Place an amethyst crystal above your head *Crown chakra area
Lay down in a comfortable position
Place an amethyst crystal on your third-eye chakra
Palms facing upward
Inhale through your nose
Exhale through your mouth slowly
Let your breaths be long and slow
Repeat for 10 breaths
Let your breath come back to its normal rhythm
Find stillness
Repeat MANTRA
MANTRA : I INVITE & ALLOW DIVINE ENERGY TO FLOW THROUGH ME
---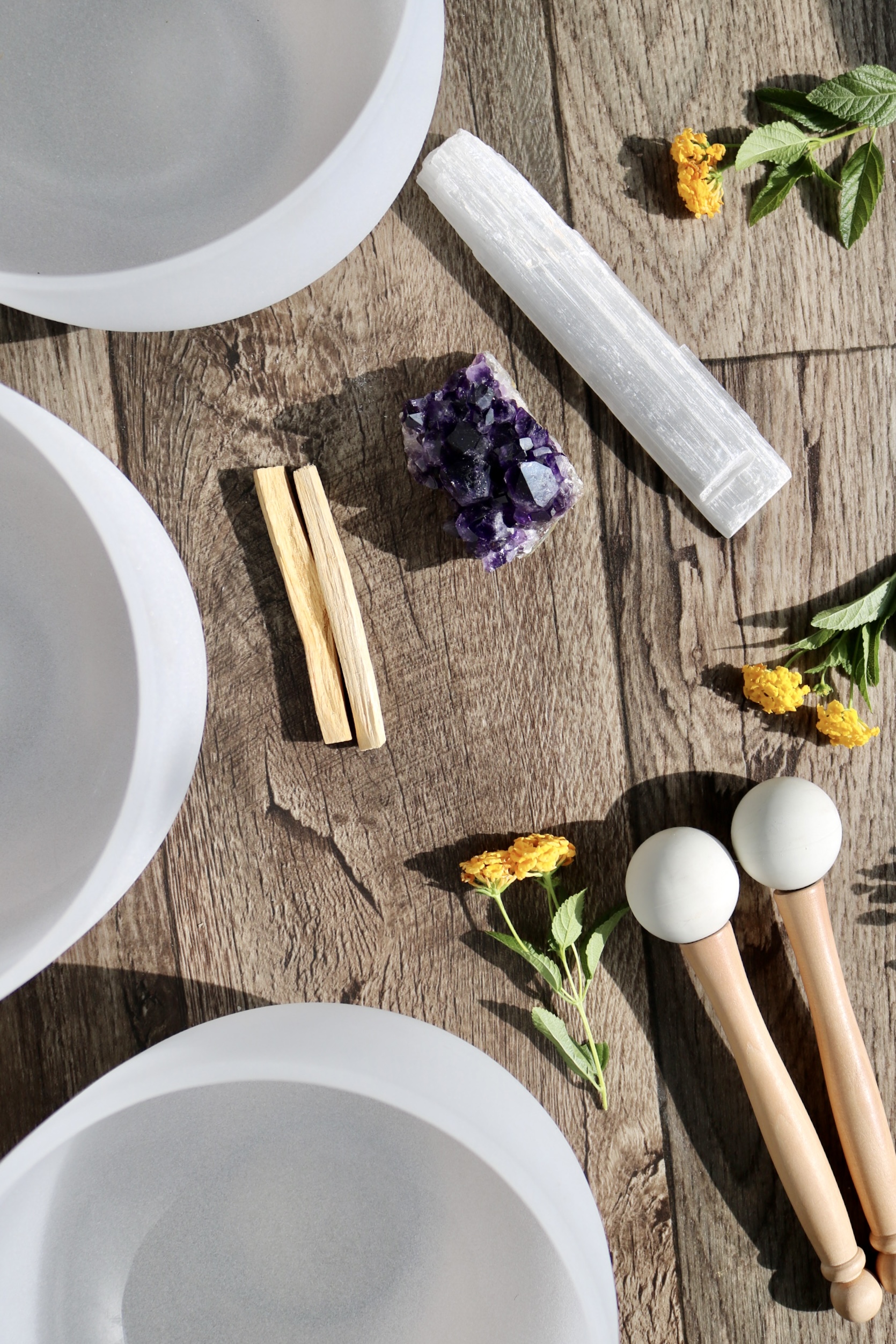 "PURE LOVE & LIGHT" CROWN CHAKRA MEDITATION
Sit in a comfortable position

Palms facing upward to receive energy

Place an amethyst crystal in each hand

Tilt your head slightly upward *Try in a spot with sunlight

Exhale out your mouth completely

Inhale through your nose

Exhale through your mouth slowly

Let your breaths be long and slow

Repeat for 10 breaths

Let your breath come back to its normal rhythm

Find stillness

Repeat MANTRA
MANTRA : I AM FILLED WITH PURE LIGHT & LOVE
---
RELATED LINKS | SOURCES
Amethyst Meaning: Everything You NEED To Know | Tiny Rituals
Metaphysical Properties Of Amethyst | Charms Of Light
Rock & Gem | Smithsonian
---