Kombucha has gained popularity in recent years, with people turning to this probiotic-rich beverage for its various health benefits. Kombucha is a fermented tea that has been around for centuries, with origins in China. The tea is made by fermenting sweetened tea with a SCOBY, which is a symbiotic colony of bacteria and yeast. The fermentation process creates a tangy, slightly fizzy beverage that is both refreshing and beneficial for your health.
It has been known for its numerous health benefits, which are mainly attributed to the presence of beneficial bacteria and yeast in the drink. The bacteria and yeast in kombucha work together to create a probiotic-rich beverage that can benefit the body in many ways. Here are some of the ways kombucha can be beneficial. At the end of the page there are two very informative videos you might be interested in watching.
Benefits of Kombucha
One of the primary benefits of kombucha is that it is a probiotic drink. Probiotics are beneficial bacteria that live in your gut and help to keep your digestive system healthy. It is rich in probiotics, which can help to boost your immune system, improve digestion, and even promote weight loss.
It is also packed with antioxidants, which can help to protect your body from free radicals that can cause damage to your cells. Antioxidants can help to reduce inflammation, which is a common cause of chronic diseases such as heart disease, cancer, and diabetes.
Another benefit is that it is a low-sugar drink. Unlike many other sodas and sweetened drinks, kombucha is naturally low in sugar, which makes it a healthier alternative.
One can of Coke has 39 grams of sugar. The same amount of kombucha has anywhere between 3 to 8 grams.
What Does Kombucha Do For The Body?
May Help Increase Metabolism: by improving the breakdown of carbohydrates and fats in the body. The tea is also believed to increase energy levels and improve overall digestion.
Can Aid In Constipation: It is a rich source of probiotics, which can help to improve the balance of bacteria in the gut and regulate digestion.
Anti-Inflammatory: It has been shown to contain high levels of a type of polyphenol, which are also found in green tea. They have been found to have potent anti-inflammatory effects and may help to reduce the risk of chronic diseases.
May Help Cancer Prevention: It contains antioxidants that can help to protect the body from free radicals, which can damage cells and lead to cancer.
May Help With Immunity: A healthy gut microbiome is essential for a strong immune system, and regular consumption of kombucha can help to boost immunity and protect against illness.
Can Promote Liver Health: Drinking kombucha turns the toxins into water soluble making it easier for your liver to flush out. There are harmful toxins all around us and drinking it can help flush out the toxic build up in your body to help you be the best you.
May Help Lower Blood Sugar: it is low in sugar and calories compared to many other sweetened beverages, which can help to prevent spikes in blood sugar. Additionally, it contains acetic acid, which has been found to have blood sugar-lowering effects..
Can Promote Weight Loss: It is a low-calorie beverage that can be a great alternative to sugary sodas and other high-calorie drinks. The tea is also believed to have a positive effect on metabolism and digestion, which can help to support weight loss efforts.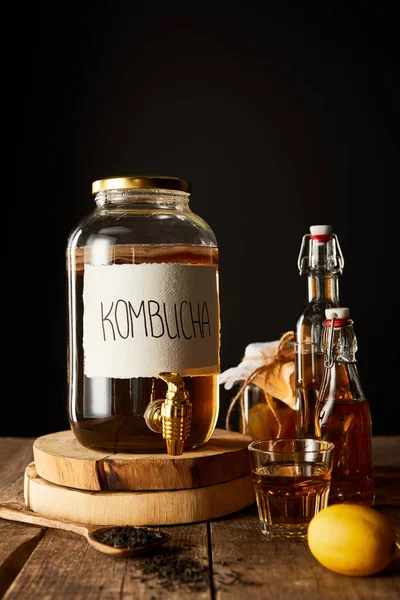 Is It Good To Drink Kombucha Everyday?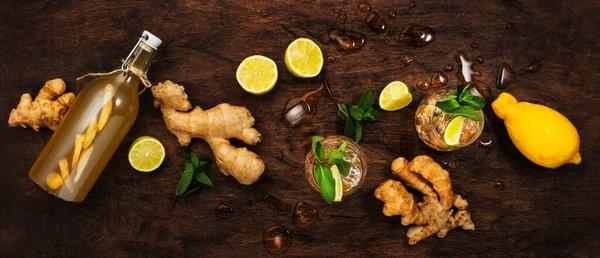 While there are many health benefits associated with kombucha, it is important to remember that the tea is a fermented beverage that contains both sugar and alcohol. For this reason, it is not recommended to drink large quantities of kombucha on a daily basis. Most experts recommend limiting consumption to no more than one or two 8-ounce servings per day.
How Often Should You Drink Kombucha?
The frequency of consumption will depend on your personal health goals and preferences. If you are looking to improve your gut health, boost your immune system, or support weight loss efforts, drinking it a few times a week may be beneficial. If you are consuming it for specific health conditions, it is best to consult with your healthcare provider to determine the appropriate frequency of consumption.
IS There Sugar or Alcohol in Kombucha?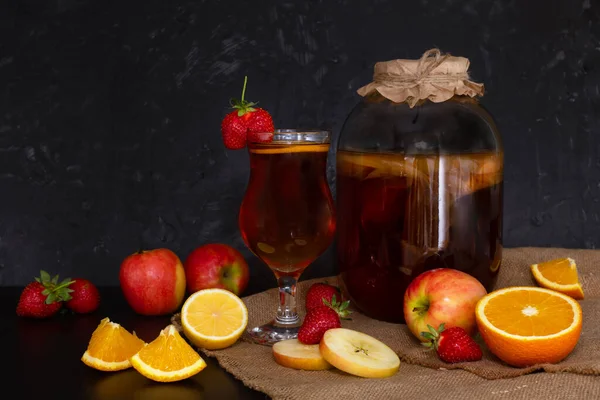 Sugar is an essential ingredient in making kombucha, as it provides the food source for the bacteria and yeast in the SCOBY to ferment the tea.
As for alcohol, small amounts of alcohol are a natural byproduct of the fermentation process. This is because the yeast in the SCOBY also produce ethanol, which can be converted into other compounds like acetic acid during the fermentation process. The alcohol content in kombucha is generally quite low, typically around 0.5% or less, which is significantly lower than most alcoholic beverages. However, it is important to note that the alcohol content can vary depending on the fermentation conditions and length of fermentation, and some commercial brands of the drink may have higher alcohol content due to differences in production processes or added ingredients.
Facts On Kombucha
Kombucha has been around for centuries and has its origins in China, where it was known as the "Immortal Health Elixir." The drink was highly valued for its health benefits and was believed to cure a variety of ailments.
It eventually spread to other parts of Asia, Russia, and Europe, and its popularity continued to grow. In the 20th century, it made its way to the United States and has since become a popular health drink.
How Kombucha is Made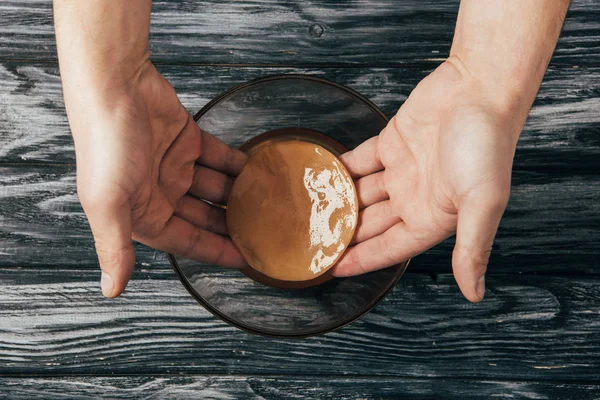 It is made by combining sweetened tea with a SCOBY. The SCOBY is a living culture of bacteria and yeast that ferments the tea and turns it into kombucha.
To make kombucha, you'll need the following ingredients:
1 SCOBY
1 cup of sugar
8 tea bags (black, green, or a blend)
1 gallon of water
Flavorings (optional)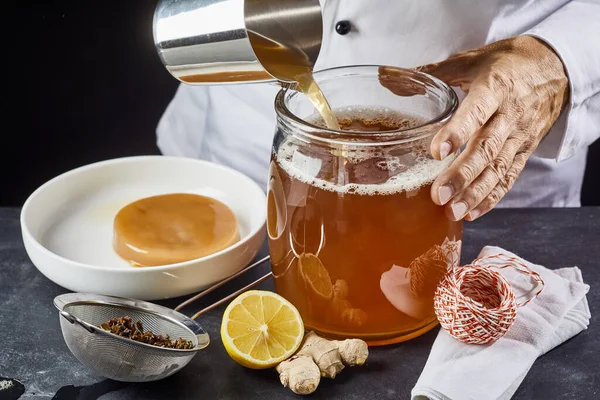 Here are the steps to make kombucha:
Brew the tea: Boil one gallon of water and steep the tea bags for 5-7 minutes. Remove the tea bags and stir in one cup of sugar until it dissolves.
Cool the tea: Allow the tea to cool to room temperature. If the tea is too hot, it can kill the SCOBY.
Add the SCOBY: Place the SCOBY in the tea and cover the container with a clean cloth or paper towel. The SCOBY will float on the surface of the tea.
Ferment the tea: Place the container in a warm, dark place and allow it to ferment for 7-14 days. The longer you let it ferment, the tangier and more acidic it will become.
Bottle and flavor the kombucha (optional): Once the kombucha has fermented to your liking, you can bottle it and add flavorings such as fruit, ginger, or herbs.
Refrigerate: Once you've bottled the kombucha, refrigerate it to slow down the fermentation process. The kombucha will continue to ferment in the fridge, but at a much slower rate.
Possible Risks of Kombucha
While kombucha offers a range of potential health benefits, there are also some risks associated with its consumption. Due to its preparation process, which involves letting bacteria grow in a liquid, there is a risk of contamination if it's not prepared properly. This can lead to the growth of harmful bacteria or mold, which can cause illness or even death.
The FDA states that kombucha is safe when properly prepared.
If you're making it at home, it's important to take precautions such as using glass, stainless steel, or plastic containers and keeping everything sanitary, including your hands and equipment. By following proper preparation methods, you can safely enjoy the potential benefits of your drink while minimizing the associated risks.
While it is generally considered safe, there are some potential risks to be aware of. The fermentation process can produce small amounts of alcohol (typically less than 0.5%), which may not be suitable for pregnant women, children, or anyone with a history of alcohol abuse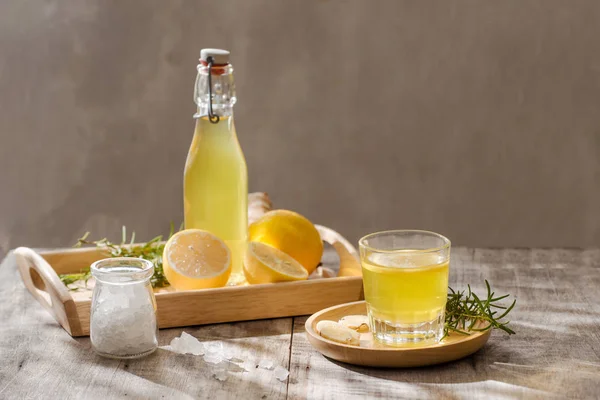 In conclusion, kombucha is a probiotic drink that offers a variety of health benefits. Its rich probiotic content can help to boost the immune system, improve digestion, and even promote weight loss. It is also packed with antioxidants that can help to protect the body from free radicals and reduce inflammation. Moreover, its low sugar content makes it a healthier alternative to many other sweetened drinks. While there are some potential risks associated with this drink, when made properly, it is generally considered safe for most people to consume. Incorporating kombucha into your diet can be a great way to improve your overall health and wellbeing.
Below is a very informative video
---
RELATED LINKS | SOURCES
Kombucha: What to Know Before You Sip | WebMD
---