Blue Kyanite is a powerful crystal that has been revered for centuries for its remarkable healing properties and its stunning, unique appearance. This remarkable stone has been used for a variety of purposes, from promoting spiritual growth to physical healing. Its beautiful blue color is also said to be calming and soothing, making it a popular choice for jewelry and decorative objects. In this blog post, we will dive into the fascinating world of kyanite, exploring its properties, its history, and its many uses. Whether you're new to the world of crystals or a seasoned collector, this guide will provide you with all the information you need to discover the magic of kyanite.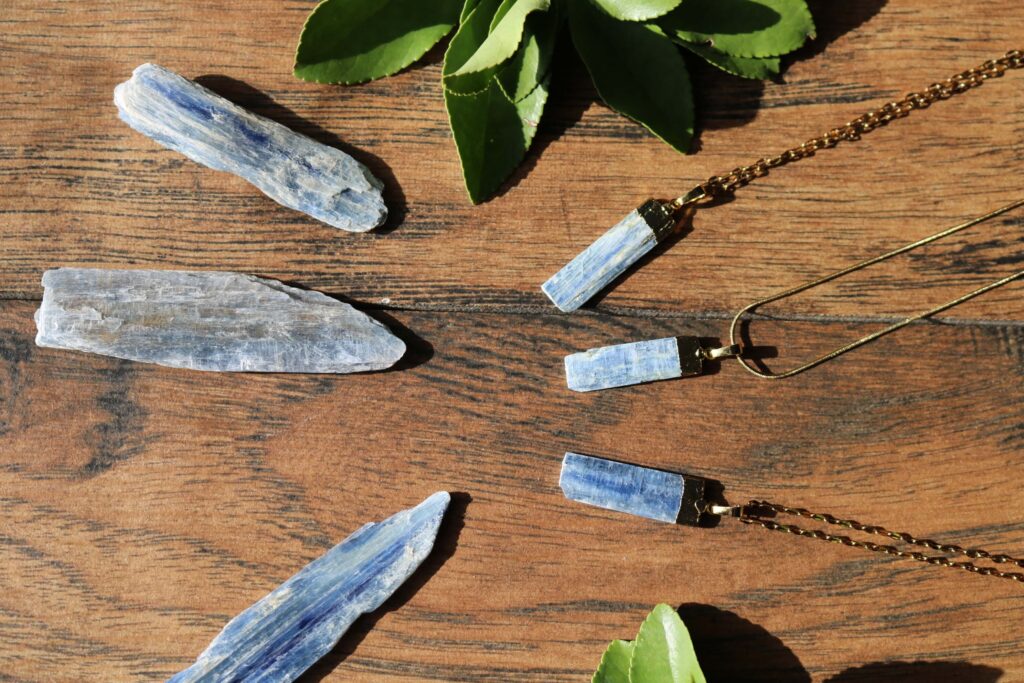 Blue Kyanite
Blue kyanite is most commonly associated with the throat chakra, also known as the fifth chakra. This chakra is located at the base of the throat and is associated with communication, self-expression, and creativity. When the throat chakra is in balance, we are able to communicate effectively and honestly, express ourselves creatively, and feel confident in our own opinions and beliefs. Blue kyanite is believed to help open and balance the throat chakra, allowing energy to flow freely and promoting a sense of calm and clarity in communication.
How to use blue Kyanite
Blue kyanite is a powerful crystal for chakra healing, especially for the throat chakra. Here are some ways to use blue kyanite for chakra healing.
Wear Blue Kyanite Jewelry
Wearing a blue kyanite necklace, bracelet or earrings can help you stay in contact with the healing energy of the crystal throughout the day.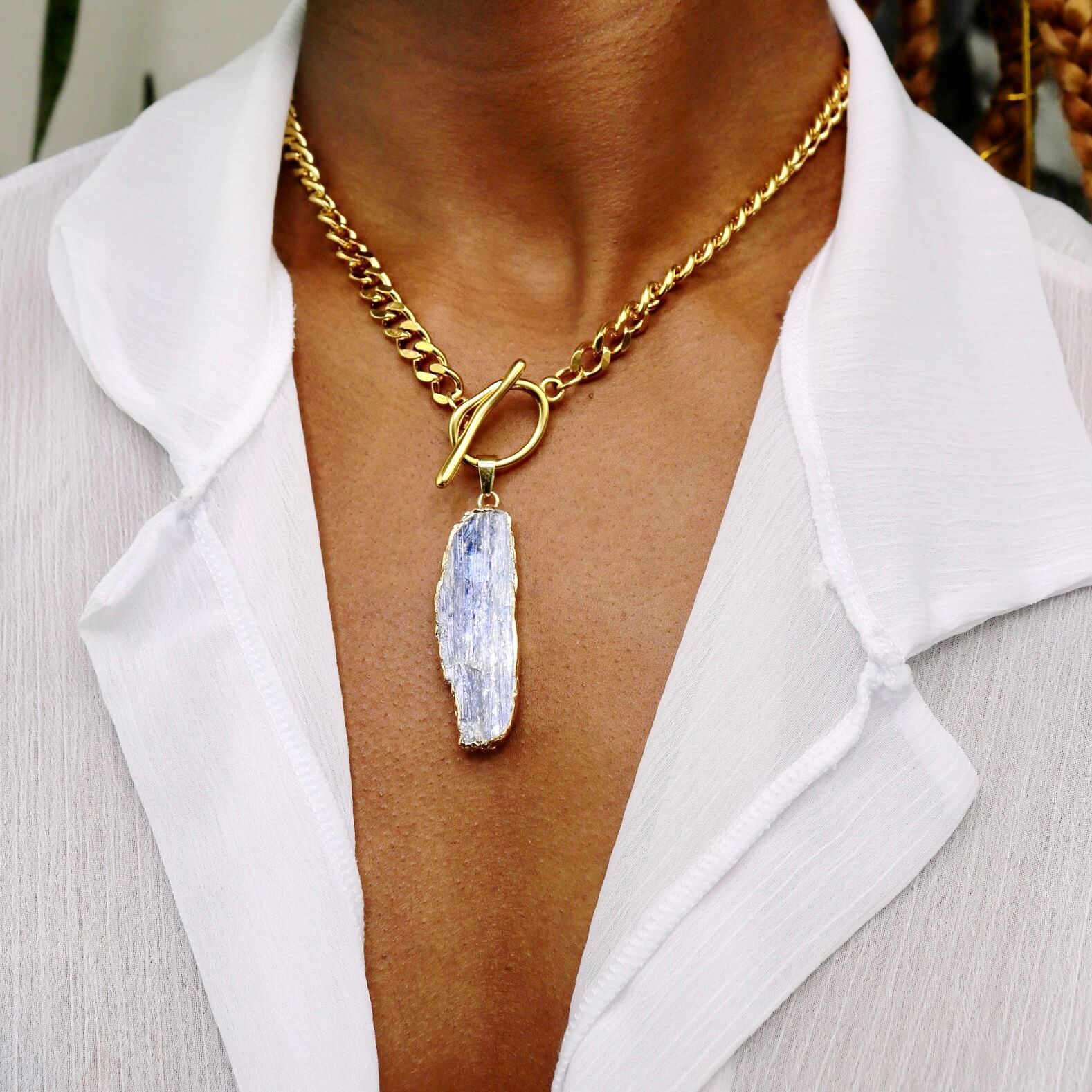 Place blue kyanite on your throat chakra
Lie down and place a blue kyanite crystal on your throat chakra for 15-20 minutes while focusing on your breath. This can help open and balance the throat chakra.
How to Meditate with blue kyanite
Sit in a comfortable position with a blue kyanite crystal in your hand Or Lie flat with it on your throat chakra
Close your eyes
Take a few deep breaths
Focus your attention on your throat chakra
Visualize a soothing blue light flowing through it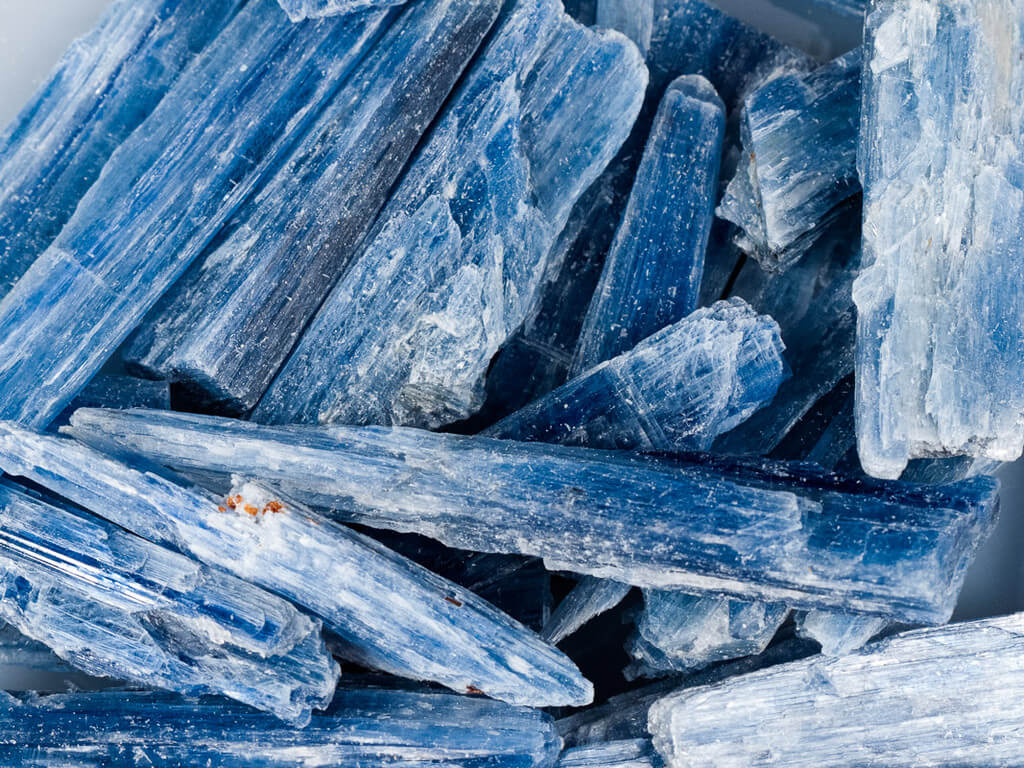 Carry blue kyanite with you
Carry a small blue kyanite crystal in your pocket or purse to stay connected to its healing energy throughout the day. Remember to cleanse and recharge your blue kyanite regularly to ensure that it is working at its full potential.
Blue Kyanite CRYSTAL PROPERTIES
Alignment
Balance
Calmness
Communication
Empathy
Harmony
Inner peace
Intuition
Self-expression
Spiritual Growth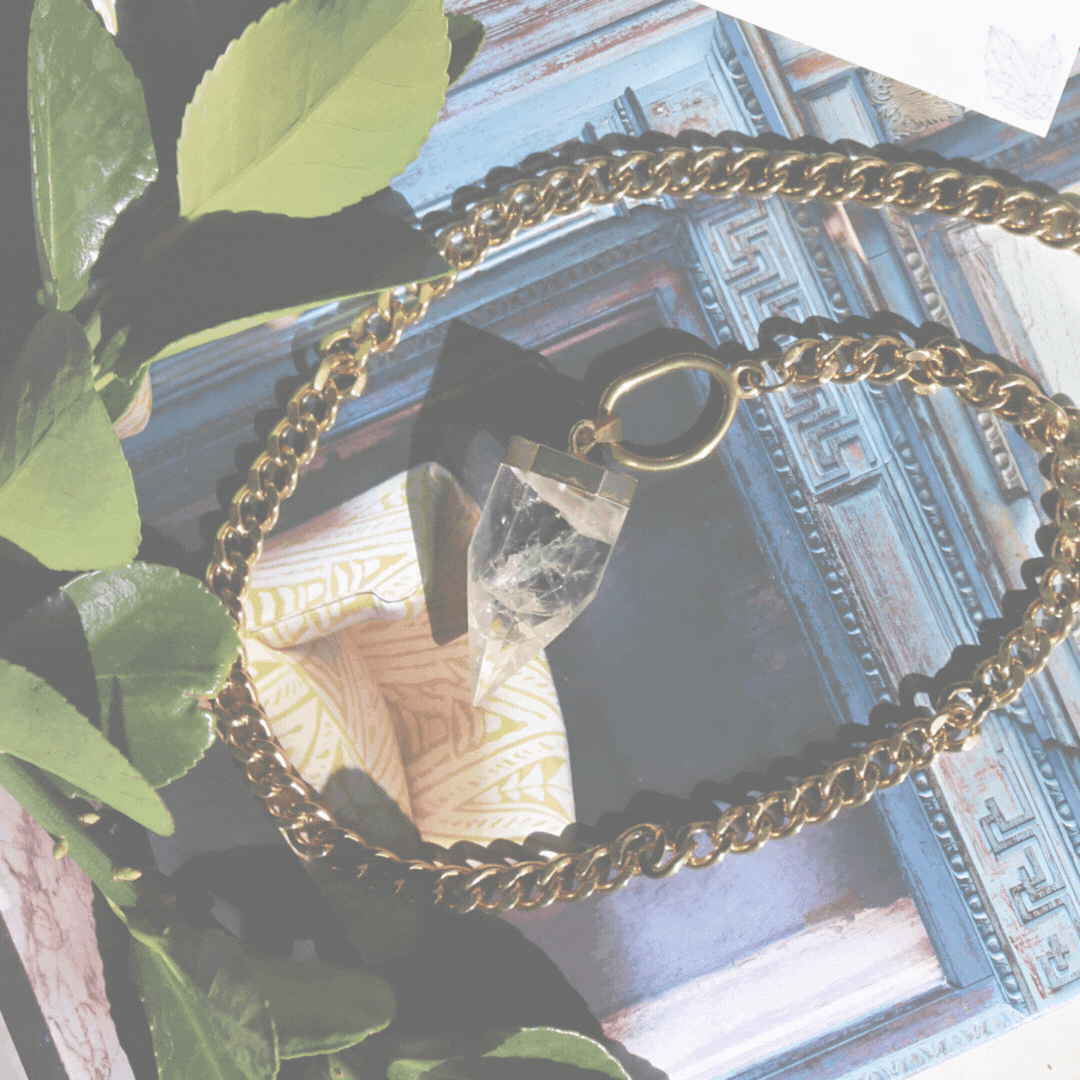 VARIATIONS of kyanite
There are several different styles of Kyanite and each connects to a different chakra, bringing individual healing powers to align the chakras and keep you attuned to what the universe has in store.
Blue Kyanite is one of the most popular forms of Kyanite. It comes in singing at high vibrations and like most blue colored crystals it connects to the throat chakra. Our throat chakra is where our truth comes from and when we are able to communicate this truth with the world and feel heard, we are on the path to achieving our fullest potential.
Black Kyanite connects to our base chakra. This is one of the most important chakras as its where we root into our own personal sense of safety. As one of the strongest grounding kinds of Kyanite, you are clearing out those imbalances that can trip you off-kilter and helping to replenish your meridian system.
Green Kyanite is linked to the heart chakra and is one of the stones that helps you to move in flow with the universe. Green Kyanite comes with strong natural vibes, helping you to feel calm and connected to the world around you. When our heart chakra is cleansed and open, we are able to receive and give love freely and to get closer to the truth that sits stashed at the heart of people and our own selves.
Orange Kyanite is a crystal that is often associated with creativity and is believed to help people tap into their inner artist. It is said to stimulate the sacral chakra, which is the energy center that governs creativity and emotional expression.By working with Orange Kyanite, people may be able to access their own unique creative energies and bring forth new ideas and artistic expressions.
Where to utilized blue kyanite?
Blue kyanite can be placed in a variety of locations depending on its intended use. Here are a few options:
Wear it as necklace or bracelet.
Place in your meditation or yoga space to promote relaxation, calmness, and inner peace. It is believed to have a high vibration that can help dispel negative energy and promote a more positive and peaceful environment.
Placing it in your bedroom is believed to promote restful sleep and reduce nightmares, making it a good choice to place on a nightstand or under the pillow.
Bring the crystal with you to work! Carry in your pocket, to promote clear communication and self-expression, making it a good choice to
Place on a desk or in a work area.
Place it on or near the body during a healing session.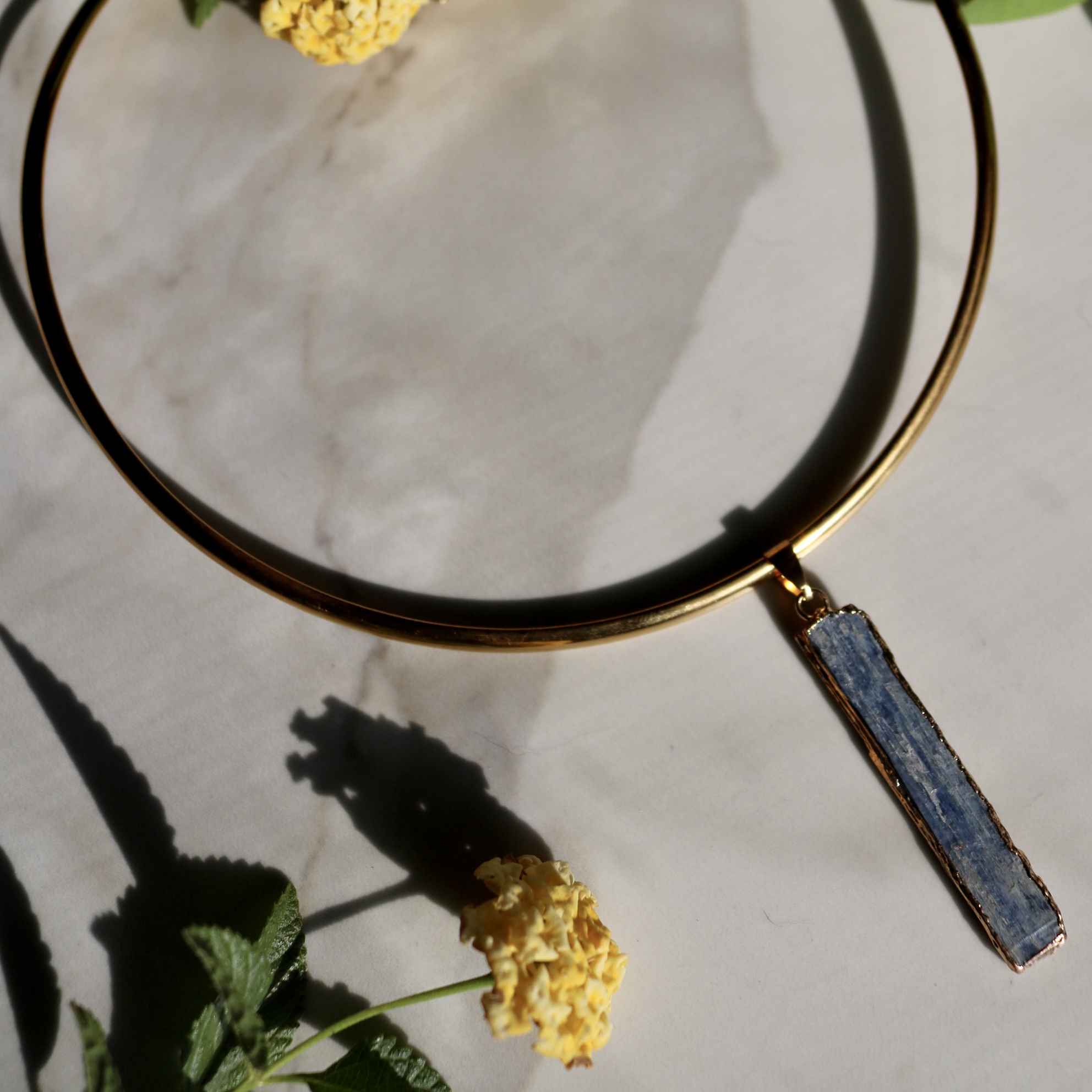 More Facts on Blue Kyanite
It is the most common color of kyanite and is highly prized for its beauty and metaphysical properties.
The United States is the world's leading producer of kyanite.
Kyanite Mining Corporation is a privately owned company based in Dillwyn, Virginia and is the world's largest producer of industrial kyanite
It is a mineral that is composed of aluminum silicate. It is typically found in metamorphic rocks and is often associated with other minerals such as mica and garnet.