we want your beautiful piece to last
---
New Moon Gemstones crystals and products are sourced from many different places around the world. Below is a list of metals that are used while creating the jewelry. Having an understanding of the metals that do and do not tarnish will help you to take appropriate care of your jewelry. Remember to always treat your jewelry with love and care. All New Moon Gemstones jewelry purchases comes with a jewelry box for storage. Below is a guide for simple jewelry care tips.
---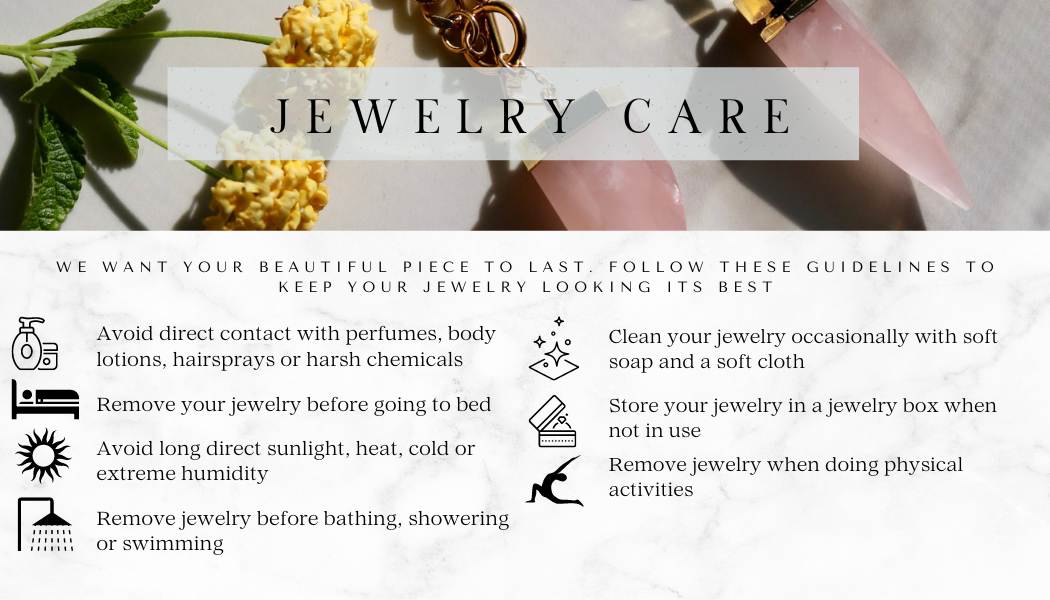 ---
what causes jewelry to tarnish?
Jewelry tarnish is caused when the surface of the metal comes into contact with body oils, makeup, sulfur, sweat, perfumes, deodorants, lotions, and other related elements. When certain metals are exposed to air and moisture, their outermost layer undergoes a chemical reaction, which causes a thin, dull layer of corrosion to develop over the surface. Luckily, cleaning tarnished jewelry isn't difficult and can easily be done with natural elements!
---
what is ALLOY?
Alloy is a combination of metals fused together. Oftentimes consists of a base metal, mixed with a precious metal to make it stronger. Pure gold is very soft, so it is rarely used on its own. Instead, other metals are added to gold to alter its durability, strength, color and price. This mixing of metals produces what's known as an ​alloy​. Some common metals used in gold alloys are silver, nickel, copper, zinc and platinum. Silver is a popular component in gold alloys because it is tarnish-resistant, which helps keep it shiny and scratch-free.
---
How Is Gold Purity Measured?
When describing gold purity, a parts system is used. Because it is difficult to get 100% gold, pure gold is an alloy of 99.9% gold and 0.1% other metals.
Pure Gold is termed in the industry as 24 out of 24 parts gold, abbreviated as 24ct or 24K.
18-carat gold is 18 out of 24 parts gold, or 75% gold and 25% other metals.
14-carat gold is 14 out of 24 parts gold, with the remainder being other metals.
In some countries, the lowest grade alloy that can still be classed as gold is 10-carat gold, which contains 58.3% alloys.
18k gold is approximately 75% pure gold, making it less durable than 14k gold since it includes more pure gold. The more pure gold there is in a metal, the softer the metal. As a result, 24k gold is the softest choice and is easily scratched and dented. Unfortunately, 18k gold is also prone to scratches and dents because of its greater purity level.
---
---
what are the Metals That can Tarnish?
---
Copper
Copper and its alloys are prone to tarnish when exposed to air and moisture over time. Pure copper, which is orange red in color, can build up a reddish tarnish. This is caused by oxidization. Copper is one of the main causes of tarnished jewelry because it is used in a variety of alloys.
Sterling Silver
Sterling silver is comprised of 92.5% silver and 7.5% of other metal. Typically copper, zinc and nickel are the choice of mixture with silver. It can start to tarnish because of the copper content in the alloy which oxidizes when exposed to air and moisture.
Brass
Brass is a bright gold-colored alloy made of copper and zinc. Brass can develop a green patina over time if left uncared for and might turn your skin green. You should never shower with bass jewelry on. It tarnishes quickly when exposed to moisture and air.
Patina: a green or brown film that surfaces on some metals, produced by oxidation over a long period.
Bronze
Bronze is an extremely durable copper alloy, made typically of copper and tin. Like all copper alloys, bronze also tarnishes when it reacts to moisture and air. Bronze can develop a green patina over time if left uncared for and might turn your skin green.
---
Gold Plating – Vermeil – Gold Filled
Gold plating jewelry may tarnish depending on the base metal. If the base metal contains nickel, copper, brass or bronze, it will be exposed when the plating wears off and might begin to tarnish.
Pure Silver
Pure silver contains 99.9% pure silver and less than .01% trace elements, typically copper. This tiny amount of copper is why pure silver may tarnish, but at a much slower rate than sterling silver.
Stainless Steel
Although the view that stainless steel doesn't tarnish is prevalent, it can tarnish with time. However, it's highly resistant to corrosion and oxidization but it's not exactly 'stainless'.
---
what are the Metals That do not Tarnish?
---
Gold
Pure Gold does not tarnish. Pure gold stays shiny and lustrous without discoloration or tarnishing. However, a lot of jewelry is made from alloyed gold like 12k, 14k and 18k and there is the possibility that it can tarnish. Higher gold purity, commonly 18k and above, should not tarnish.
Titanium
Titanium is highly resistant to tarnish, corrosion and rust. It doesn't react to water or air and remains lustrous and shiny, requiring minimal maintenance.
Tungsten
Tungsten is the hardest metal used in jewelry, tungsten grade used in jewelry does not rust, tarnish or develop a patina. However, industrial grade tungsten can tarnish and rust, if it's cheaper and of lower quality.
Platinum
Platinum does not tarnish, it will develop a patina over time. This, however, is caused by dents and nicks in the metal, rather than by oxidization. Some people like the look of platinum patina and carefully maintain this when it occurs.
---

How To Clean Tarnished Jewelry In Just 10 Minutes
The right method and cleaning ingredients will ensure that the jewelry doesn't get damaged during the cleaning process. Treat your jewelry with love. These gentle cleaning methods can safely remove oils, dirt, and other substances that naturally find their way onto jewelry.
---
RELATED LINKS | SOURCES
What is jewelry tarnish | Twyldill
Materials Used for Jewelry Making | Eternal Tools
---